BL-19
Soft X-ray radiation from APPLE-II type undulator will be available at BL-19. The beamline consists of two branches: A branch for scanning transmission X-ray microscopy (STXM), and B branch for a free port. One can use a bulk soft X-ray XAS instrument or user-brought apparatus. Since the free-port space is very limited, please contact the beamline staff BEFORE submitting a proposal.
BL-19 is NOW UNDER COMMISSIONING. Commissioning using synchrotron radiation will be started on Nov. 2018. Proposals that will be active since 1st term 2019 will be accepted. However, beamline commissioning experiments will be the 1st priority, and the energy resolution, photon energy range, and polarization may be limited.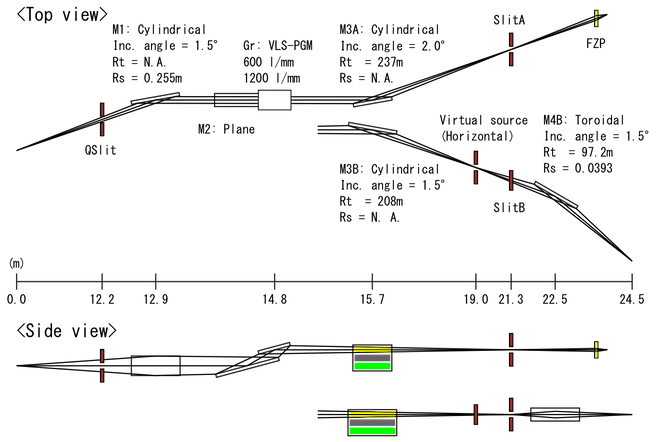 Light source: APPLE-II type undulator [1]
Photon energy range: 90-2000 eV
Polarization: Horizontal linear (LH), vertical linear (LV), circular (C+/C-) and eliptical (E+/E-)
Monochromator: Monk-Gillieson type varied-line-spacing plane grating monochromator (VLS-PGM) [2]
Line spacings: 600, 1200 lines/mm
BL-19A: Scanning transmission X-ray microscopy (STXM) [3]
Focusing: FZP
Spatial resolution: ~30 nm
Energy resolution: E/dE = ~5000
Energy range: 250-1600 eV
Absorption edges: C, N, O, F, Na, Mg, Al (K edges), K, Ca, 3d transition metals (L edges), 4f rare earths (M edges), etc.
BL-19B: Free port
Available area: 1600x2000 mm
Beam size: 200(V)x50(H) um
Energy range: 90-2000 eV
Energy resolution: E/dE = ~5000
Instrument: Bulk soft X-ray XAS instrument
Total yield, fluorescence (silicon drift detector), and transmission (photodiode) modes are available.
Beamline staffs
BL-19: Kanta Ono (PHS: 4205) kanta.ono[@]kek.jp
BL-19A (STXM)/B (free port): Yasuo Takeichi (PHS: 4909) yasuo.takeichi[@]kek.jp
References
[1] S. Sasaki et al., Nucl. Instrum. Meth. Phys. Res. A 331, 763 (1993).
[2] K. Amemiya and T. Ohta, J. Synchrotron Rad. 11, 171 (2004).
[3] Y. Takeichi et al., Rev. Sci. Instrum. 87, 013704 (2016).